Well its that time again and this year with the help of a few others we are starting up Santa Slackers for that little push we need to get our Christmas cards done ontime and a little inspiration!!! I hope others come and play along on our weekly challenge as Christmas approaches over at the Pro Craft Community Card forum.
http://main.cricut.com/community/Cricut-Community_topics37_Cards.aspx
Here is my card for the forum this week. We were suppose to use a tree somewhere on our card. I used the Christmas tree as my focal point!!!! I spend alot of time surfing thru wonderful videos others make on utube and someone made showed all how to make this christmas tree using the martha stewart punch that all have from a couple years back and winter frolic tree as a base. It sure made it easy to make up for this A2 size card. Did a little embellishing on my tree with some bling and pearls to spurce it up hahaha!! Spruce tree get it!!!! Also tried out a background stamp (working on my stamping technique and new christmas sentiment stamps!!!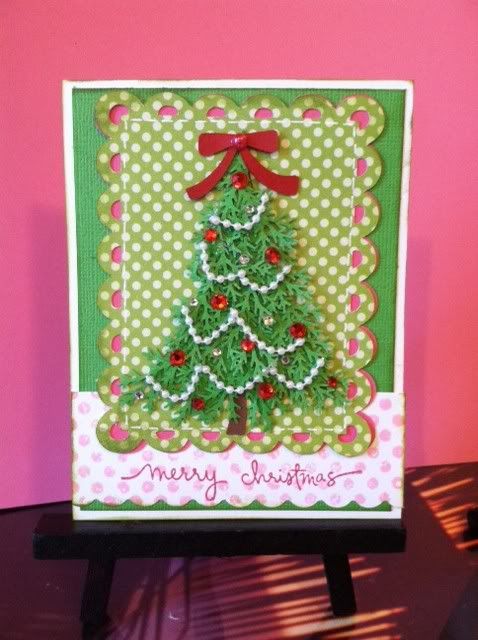 Hope everyone joins us each week and lets us see and be inspired by your works of art!!!! If not come on over and take a look and let us know what you all think!!!!
Sandi (daveshunny)