I have to say when I saw this cut on Wrap It Up I was going to pass it by. But as I leafed through the Manual I thought "hey I can do this".
I had be surfing through the blogs (any everyday occurrence) Looking for a little nudge to make another card!!! Well anyway I stopped by Two Scraptastic Gals blog. They have a challenge going on!
Cricut-Cartridge-Chaos-Challenge
What caught my eye here was one of the carts you were suppose to use was Wrap It Up! I bought this a while ago and never have used it!! So the hunt was on through the manual with which of the cuts I wanted to use. I used the card , tag, and flower cut to make my card. This Card as oddles of layers!
pop dotted extra cuts glued together. bunches!!! I used design studio to get all my sizes right and thank goodness I saved the projects for reference if I want to make this size again!!! (A2). This little card has really been thru the wringer between be distressed on edges inked and blinged!!! I know now that I really need to try cuts that I normally wouldn't because sometimes it works to your favor!!!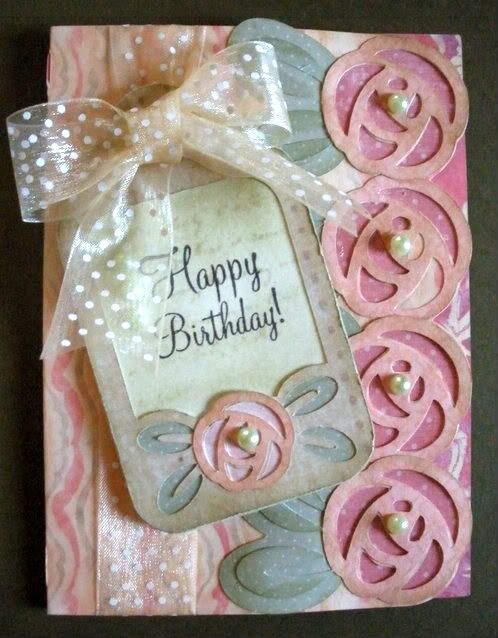 I think I might try some different papers and layerings to see what type of look you get!!! I would love to see what others have done with this cut on page 25 in the manual.